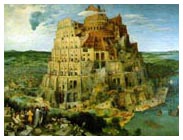 In the Judeo- Christian tradition, the story of the Tower of Babel describes how the people of the land of Shinar used brick and lime to construct a city with a tower that would reach up to heaven. But the Lord intervened and prevented the builders from completing their task. He scattered them abroad and confounded their speech, so that humankind, which had been united by a single, common language, was divided into nations who were no longer able to communicate.
This parable holds two important lessons for the Point of Care industry.
A single, common language can enable a community to accomplish unparalleled feats.
The full benefits of advances in technology (i.e. brick and lime construction techniques) may only be realized when a community can build on top of a common communication mechanism.
It is in this spirit that the Point of Care Connectivity Industry Consortium was proposed.
During the MEDICA 2001 briefing, the CIC launched the European Initiative (EI) to ensure that POC suppliers and users in Europe can be kept informed about and have an opportunity to contribute to international POC standardization after the CIC sunset in 2001.